紅藜・薑花 - 逆齡植萃精華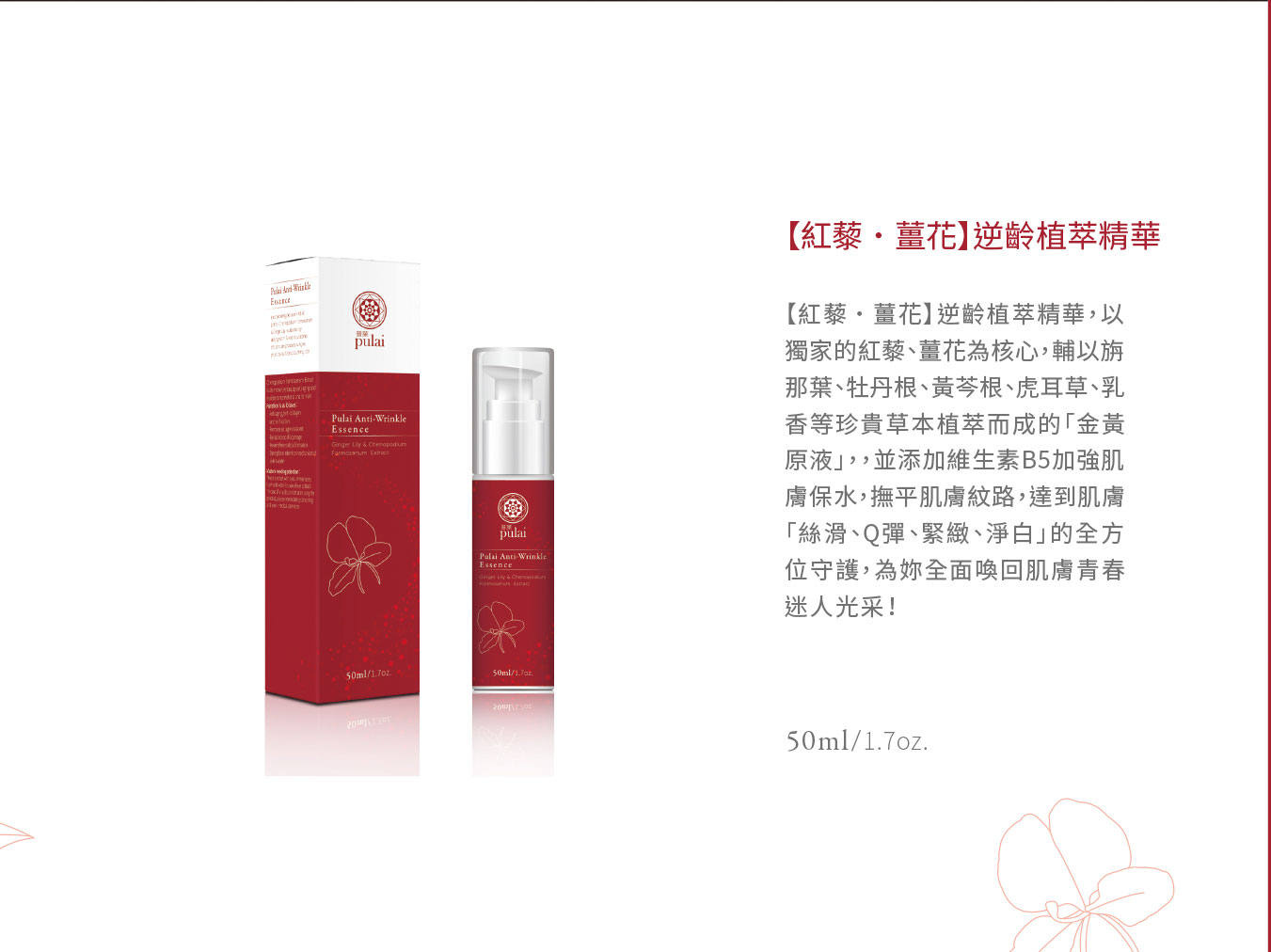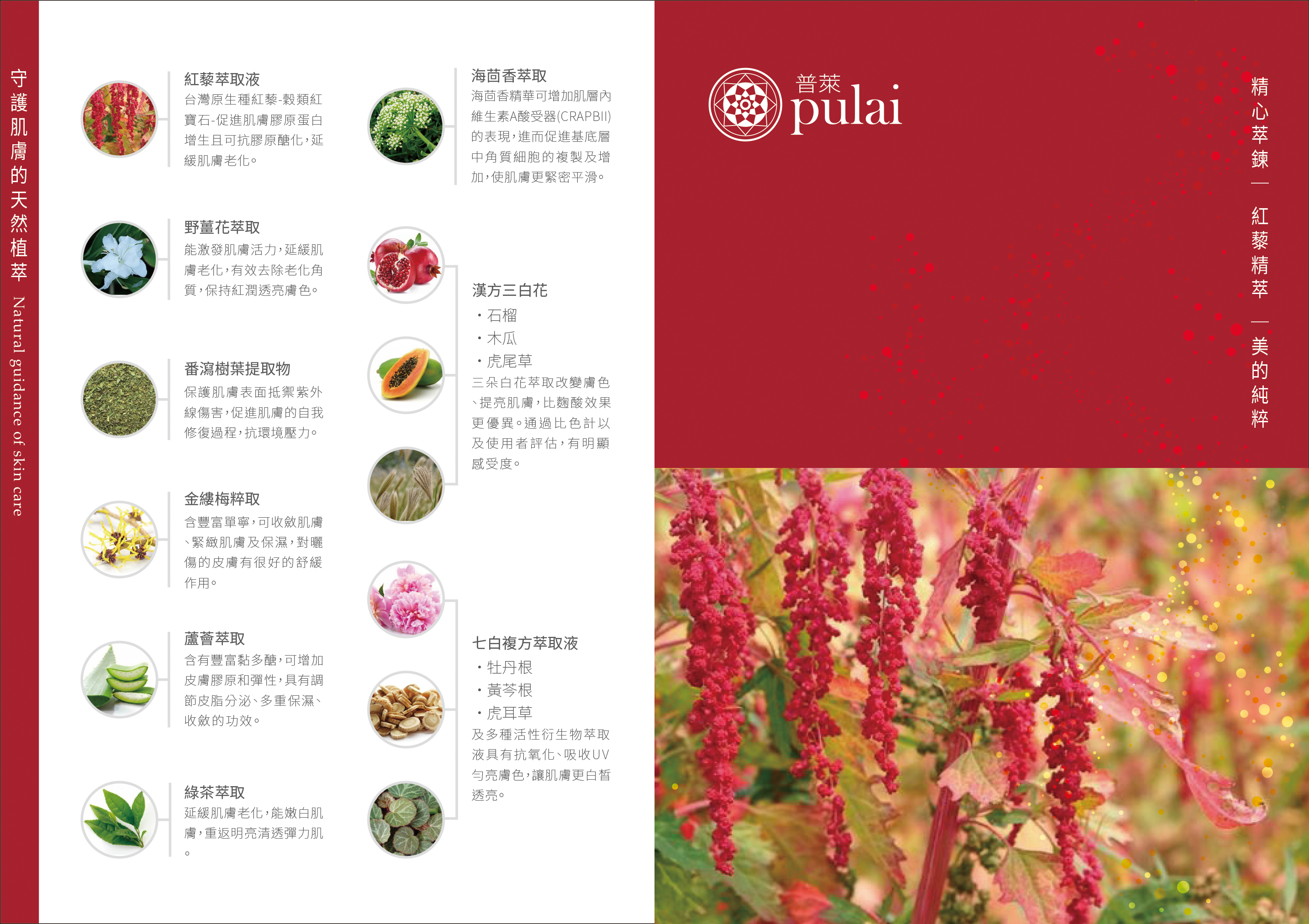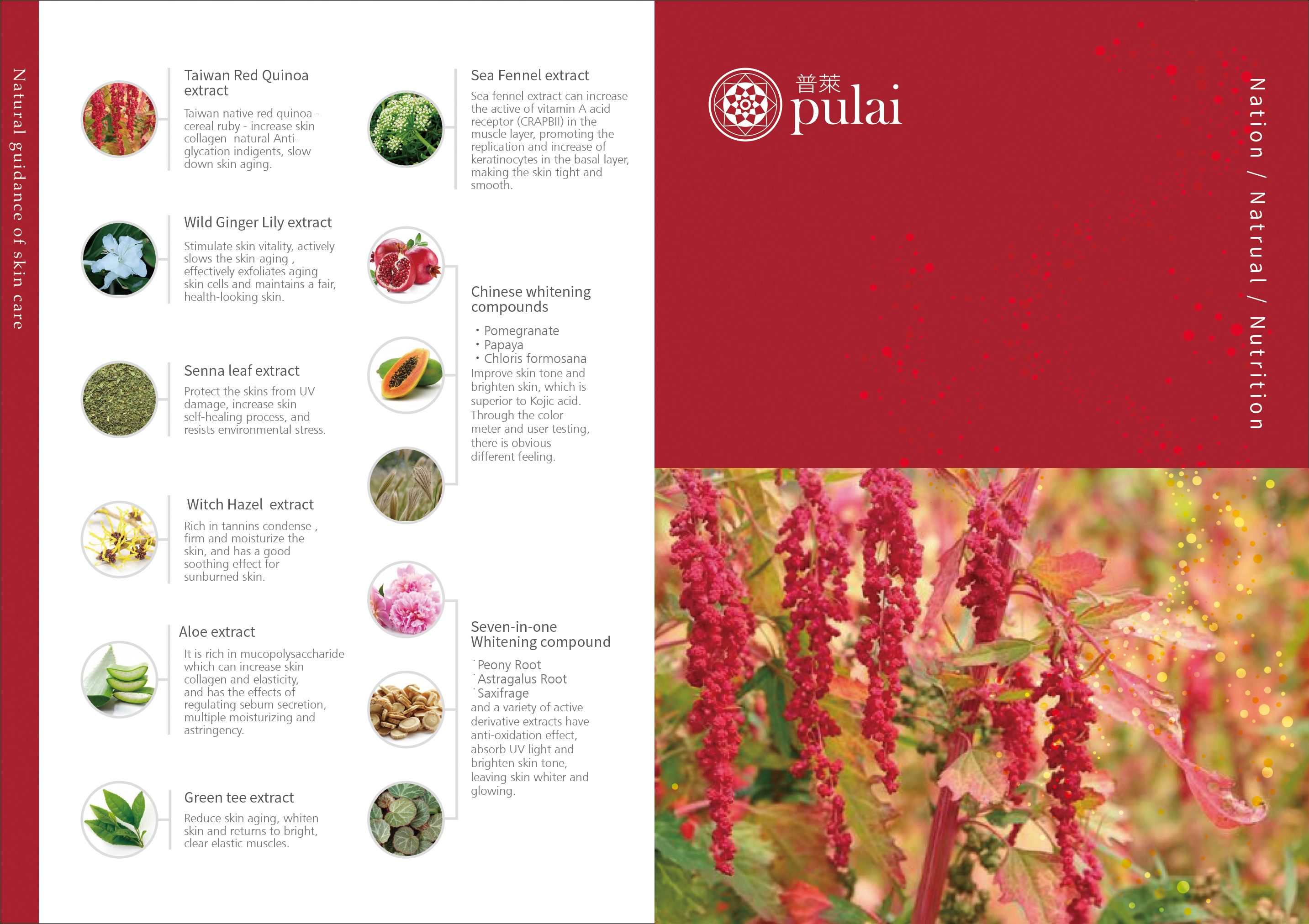 其它資訊:
精心萃鍊 / 紅藜精萃 / 美的純粹
容量:50ml
原生植萃系列 >【紅藜 。薑花】
普萊以本土(Nation)、自然(Natrual)、營養(Nutrition) 3N理念,開發一系列以台灣特有種紅藜及野薑花植萃為基礎的保養品,開發之初研發團隊走訪全台在一次參與南台灣排灣族原民祭神慶典中發現一種五彩繽紛的穀物,是當地的天然膳食、活力的來源。
團隊驚覺美麗可以由內而外,選定它最具抗老與滋養成分與當地野薑花,搭配其他草本植物精華,以獨家配方及創新的技術開發出原生植萃【紅藜 .薑花】系列產品,讓肌膚無負擔地由內而外吸收天然營養,達到水嫩、煥膚、晶亮、逆齡的奇肌。
【紅藜 。薑花】逆齡植萃精華
是一款除了有獨家紅藜、野薑萃取技術外,更添加多種先進活性成分番瀉樹葉提取物、七合一美白複方萃取液 ,草本精粹「金黃原液」,護膚效果百分百,維生素B5更能賦予肌膚舒適與清爽,明顯感受滑順與保濕效果,重建緊密厚實的表皮,促進老廢角質的剝落,撫平皺紋使肌膚平滑,內緊彈外淡紋。
搭配玫瑰天竺葵、乳香等提振肌膚活力的高雅香味,為妳全面喚回肌膚青春迷人光采!
【赤キノア 。 ジンジャーリリー】アンチリンクルエッセンス
独特の赤いキノアと野生のジンジャー抽出技術に加えて、セナ葉エキス、7種類の美白漢方成分:
ハーブエッセンス「ゴールデンリキッド」など、様々な先進的な有効成分も含まれており、完璧なスキンケアにつながります。
ビタミンB5は、皮膚に快適で爽やかな効果を与えることができ、滑らかで保湿の明白な感情を与えることができます。 それは皮膚バリアを強化し、古い皮膚細胞の剥離を増加させ、しわおよび皮膚を滑らかにし、ハリを取り戻す。
【Red Quinoa . Ginger Lily】Anti-Wrinkle Essence
In addition to exclusive red quinoa and wild ginger extraction technology, it also contains a variety of advance active ingredients such as Senna leaf extract, seven-in-one whitening compound , herbal essence "Golden Liquid", lead to the perfect skin care.
With vitamin B5 can give the skin a comfortable and refreshing effect, and the obvious feelings of smooth and moisturizing. It strengthens the skin barrier, increases the exfoliation of the old skin cells, smooths the wrinkles and the skin, tightens the outer lines.
Chenopodium formosanum extract is an innovative beauty anti-aging and maintenance material and its main function is as follows:
•Anti-aging/anti-collagen saccharification
•Promote collagen nascent
•Resistance to UV damage
•Prevent free radical formation
•Strengthen retention mechanism of skin's water
Ingredients:
Pure Water、White Mineral Oil、Glycerine、Xanthum Gum、Silk Amino Acids、Niacinamide、Cetearyl Olivate & Sorbitan Olivate、Rose Hip Oil、Tocopherol、DMDM Hydantion(and)lodopropynyl Butylcarbamate、 Ginger Lily Extract、Chenopodium Formosanum Extract 、Fragrances
How to use:
Using the toner at first, and then use the Pulai anti-wrinkle essence for deep care. Furthermore, take gently massage until the essence completely absorbed to the skin.
Matters needing attention:
*Avoid contact with eyes. Immediately flush with water in case of eye contact.
*In case of any discomfort after using the product, please immediately stop using and seek
medical attention.
Manufacture date: Printed on the box
Validity: 2 years
Capacity:50ml/1.7OZ
Manufactured By:Shi Hua Tang Biotechnology Co.,Ltd.
Original factory Address:No.5 Daxing 11th Street .,Taiping Dist.,Taichung City , Taiwan
General agent:Funmay International Co.,Ltd.
Dealer:Fantasy Nature 凡蒂絲 內翠兒 CO. LTD. ALL RIGHTS RESERVED.
Original factory Address:3F., No.5 Daxing 11th Street .,Taiping Dist.,Taichung City , Taiwan
Digital Fax:fantasynature@print.epsonconnect.co
Website :https://www.fantasynature-taiwan.com
E-mail:fantasynature@60c.win Made in Taiwan
---
FN公告資訊連結
黑貓宅配公告資訊 | 會員回饋金公告資訊 | 會員訂閱公告資訊
Customer comments
| Author/Date | Rating | Comment |
| --- | --- | --- |