紅藜・薑花 - 晶亮植萃面膜 5入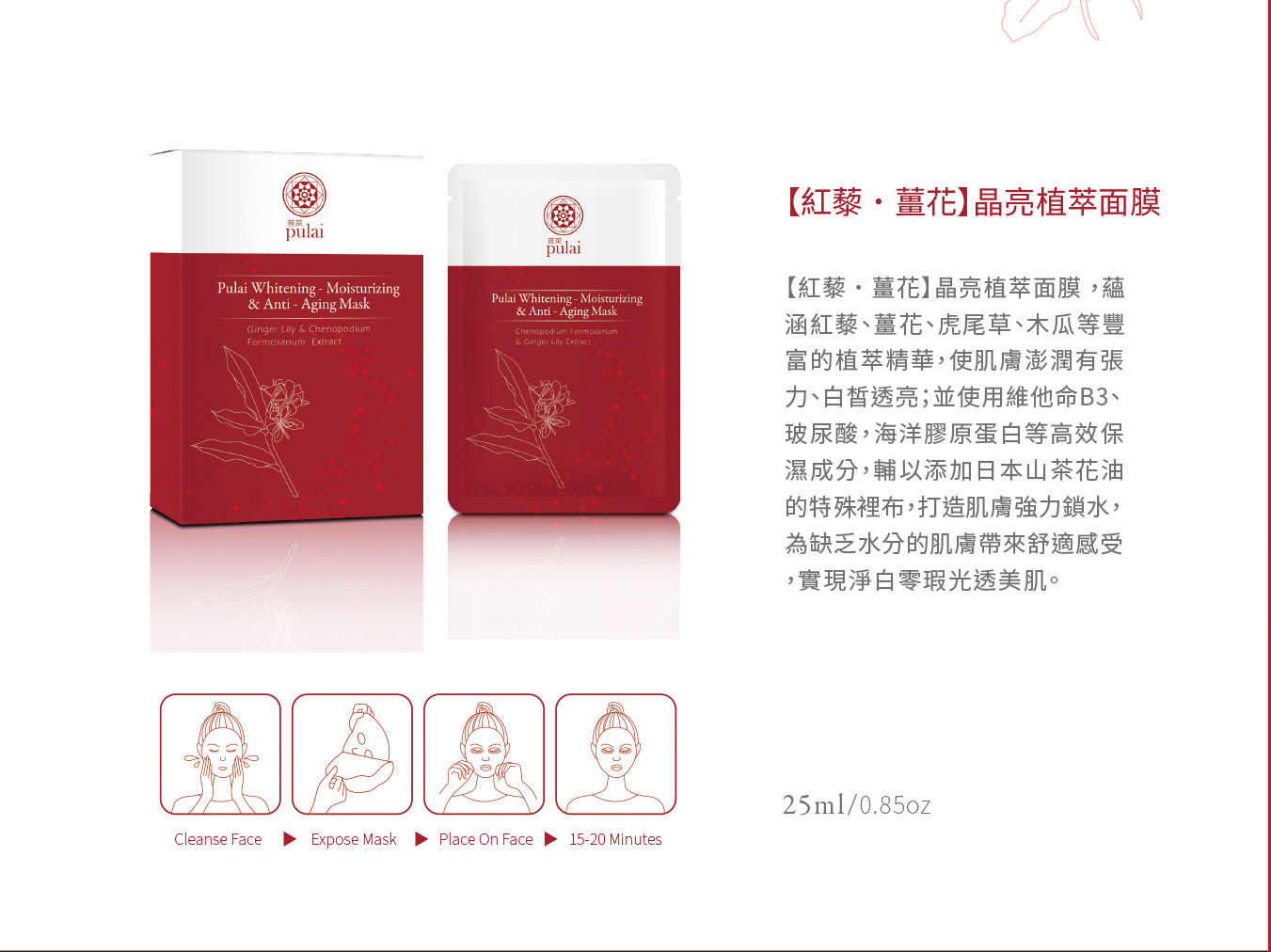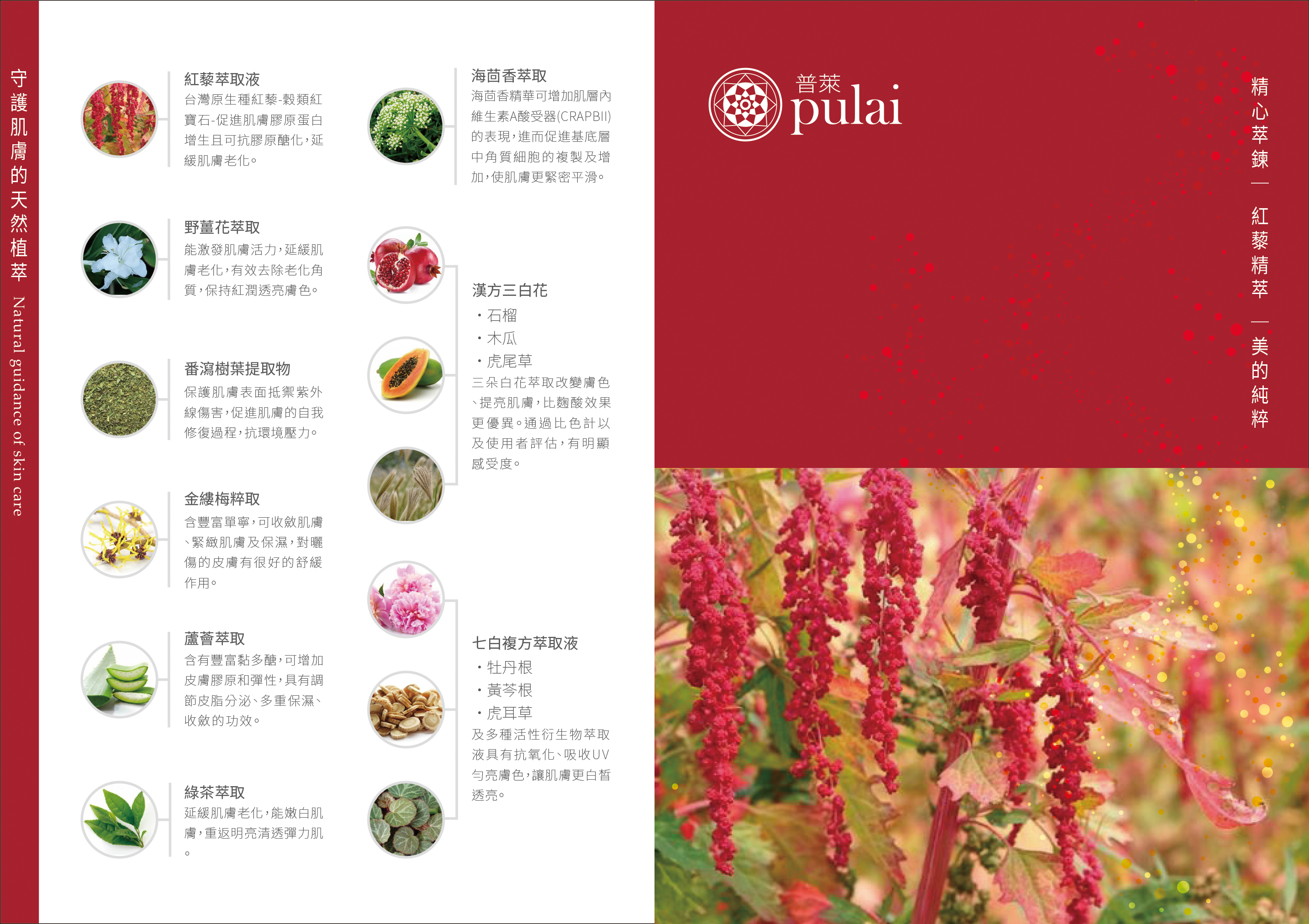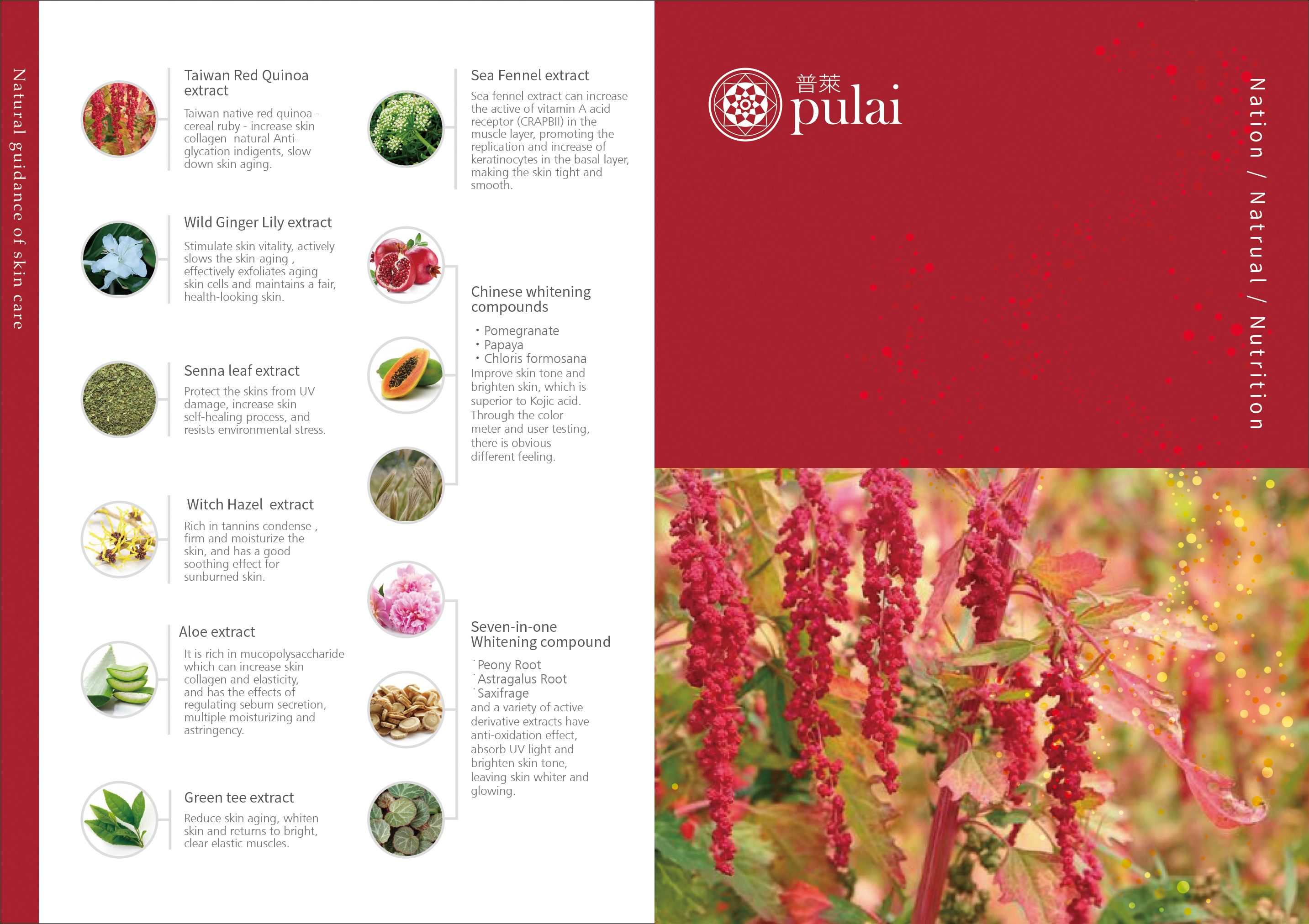 其它資訊:
每片蘊涵25ml的植物精粹及山茶花裡布,能快速保濕,為缺乏水分、活力或能量的肌膚帶來舒適感受。
精心萃鍊 / 紅藜精萃 / 美的純粹
容量: 25ml/五入
原生植萃系列 >【紅藜 。薑花】

普萊以本土(Nation)、自然(Natrual)、營養(Nutrition) 3N理念,開發一系列以台灣特有種紅藜及野薑花植萃為基礎的保養品,開發之初研發團隊走訪全台在一次參與南台灣排灣族原民祭神慶典中發現一種五彩繽紛的穀物,是當地的天然膳食、活力的來源。
團隊驚覺美麗可以由內而外,選定它最具抗老與滋養成分與當地野薑花,搭配其他草本植物精華,以獨家配方及創新的技術開發出原生植萃【紅藜 .薑花】系列產品,讓肌膚無負擔地由內而外吸收天然營養,達到水嫩、煥膚、晶亮、逆齡的奇肌。
【紅藜 。薑花】晶亮植萃面膜

蘊涵紅藜、薑花、虎尾草、木瓜等豐富的植萃精華,使肌膚澎潤有張力、白皙透亮;並使用維他命B3、玻尿酸,海洋膠原蛋白等高效保濕成分,輔以添加日本山茶花油的特殊裡布,打造肌膚強力鎖水,為缺乏水分的肌膚帶來舒適感受,實現淨白零瑕光透美肌。
【赤キノア 。 ジンジャーリリー】ホワイトニング・モイスチャライジング&アンチエイジングマスク
各マスクには25mlの植物エッセンスが含まれています。乾いたスキンが活力やエネルギー不足のために素早く潤いを与え、快適感をもたらします。
ビタミンB3、ヒアルロン酸、海洋コラーゲン、活性植物エキス、美白漢方成分、緑茶、ヘーゼルなどの保湿成分を配合した、エキゾチックな赤キノアと野生のジンジャーエキス配合 白く輝く肌。
【Red Quinoa . Ginger Lily】Whitening-Moisturizing&Anti-Aging Mask
Each mask contains 25ml of plant essence and a gently affixed toona ciliata (also known as camellia) lining, which brings quick moisturizing and comfort feeling for dry skins lack of vitality or energy.
The essence contains an exclusive red quinoa and wild ginger extracts formula, with high moisturizing ingredient vitamin B3, hyaluronic acid, marine collagen and numbers of active plant extracts, Chinese whitening compounds, green tea and hazel help the skin moisturized with tension inside out, achieving a whitening and radiant skin.
Ingredients:
Pure water、Glycerin、Niacinamide、Butylene glycol、Sodium Lactate、Chlorphenesin、
Phenoxyethanol、Panthenol、Hydroxy Ethyl Cellulose、Lactic Acid、Chondrus Crispus Extract、Sodium Hyaluronate、Xanthum Gum、Coceth-7 (and) PPG-1-PEG-9 Lauryl Glycol Ether (and) PEG-40 Hydrogenated Castor Oil、Tocopheryl Acetate、Ginger Lily Extract、Green Tea Extract、Witch Hazel Extract、Chenopodium Formosanum Extract、Fragrance
How to use:
1.Cleanse the face
2.Open the sachet and take out the mask. Remove plactic film. Then placemask over the face.
3.Adjust mask to adhere entirely over the face positioning openings for eyes and mouth. 4.Press the mask lightly with both hands until it adheres completely. Remove mask after
15- 20 mins and gently massage the remaining essence into the skin.
5.For besst results, use 3 to 4 times a week.
Skin Type: Suitable for all skin types

Matters needing attention:
*Avoid contact with eyes. Immediately flush with water in case of eye contact.
*In case of any discomfort after using the product, please immediately stop using and seek medical attention.
*Once product is opened use immediately to maintain freshness and quality.
The storage way: keep away from high temperature and sunlight
Manufacture date: Printed on the box
Validity: 2 years
Capacity:125ml/5OZ
Manufactured By:Shi Hua Tang Biotechnology Co.,Ltd.
Original factory Address:No.5 Daxing 11th Street .,Taiping Dist.,Taichung City , Taiwan
General agent:Funmay International Co.,Ltd.
Dealer:Fantasy Nature 凡蒂絲 內翠兒 CO. LTD. ALL RIGHTS RESERVED.
Original factory Address:3F., No.5 Daxing 11th Street .,Taiping Dist.,Taichung City , Taiwan
Digital Fax:fantasynature@print.epsonconnect.co
Website :https://www.fantasynature-taiwan.com
E-mail:fantasynature@60c.win Made in Taiwan
---
FN公告資訊連結
黑貓宅配公告資訊 | 會員回饋金公告資訊 | 會員訂閱公告資訊
Customer comments
| Author/Date | Rating | Comment |
| --- | --- | --- |